Rosa Becerril receives the Most Innovative Woman in Psychology Award 2023
Madrid, July 19, 2023
Rosa Becerril, CEO and founder of Psiconnea, a leader in the online psychology and psychotechnology industry, is proud to announce that she has been awarded the Most Innovative Woman in Psychology Award 2023 at the Acquisition International's Influential Businesswoman Awards.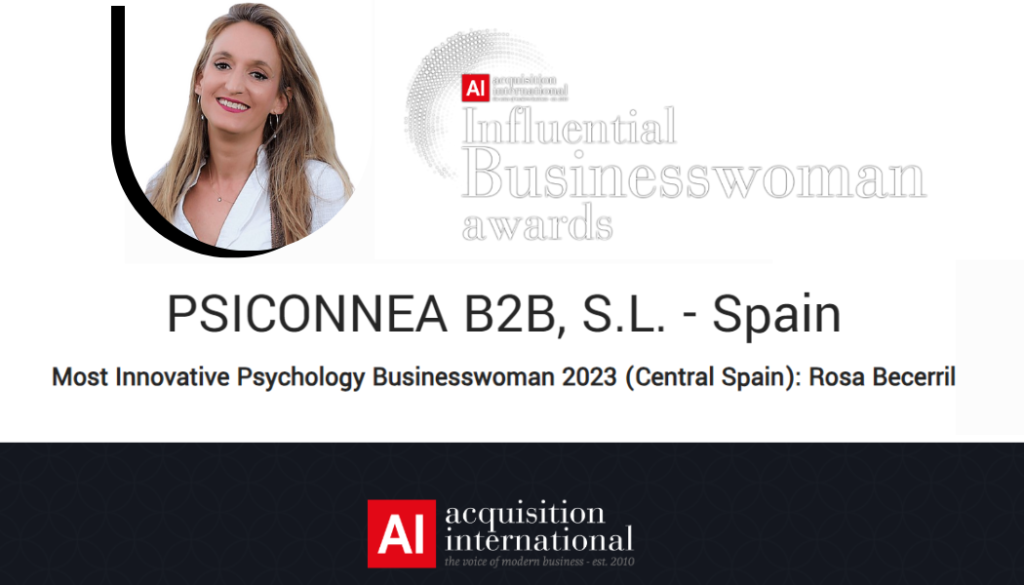 This recognition distinguishes Rosa and Psiconnea for their outstanding contribution to the field of psychology through the implementation of innovative technology-based solutions. The unique combination of psychology, Artificial Intelligence, Big Data, and innovation has enabled Psiconnea to offer comprehensive and personalized care to individuals, companies, and governments seeking to improve their mental and psychoemotional health.
Innovation and psychology hand in hand at Psiconnea
With a focus on the mental well-being of users and the security of companies, Psiconnea has revolutionized the way mental health and psychological emergencies are approached and treated, surpassing geographical barriers and providing access to high-quality services to a wider audience.
In addition to their commitment to innovation, Rosa is also proud of Psiconnea's positive impact on society. By reducing the costs associated with mental health problems, the company is contributing to improving people's quality of life and generating beneficial economic impact.
Rosa has stated, "The team has worked hard to develop solutions that make mental health care more accessible, convenient, and effective for everyone. This recognition reinforces our commitment to continue innovating and improving people's lives through psychology and technology."
Photo by LinkedIn Sales Solutions on Unsplash
If you want to learn about the other winners of Acquisition International's Influential Businesswoman Awards, you can visit https://www.acquisition-international.com/awards/influential-businesswoman-awards/.
About Psiconnea
As awareness of the importance of mental health continues to grow, Psiconnea is leading the way by providing an innovative solution to people's emotional challenges. The unique combination of psychology, technology, and Artificial Intelligence is opening new possibilities in the field of mental health and improving the quality of life for thousands of individuals and businesses throughout Spain.
For more information about Psiconnea, you can visit www.psiconneacorporate.com or WhatsApp at +34 911 921 875.